About Tajrin Builders Private Limited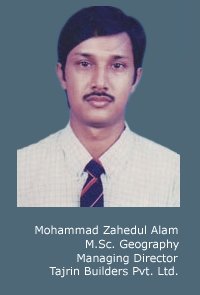 Tajrin Group was established in september 1989 as a company of Concord Computer Center. Tajrin Builders (Pvt.) Ltd. was established in September 2008. The Company's   mission is to build a world class tourist cum residential town. Our journey is  too  short  but  in  this period we find out  many  local  and foreign clients. We ensure quality   plots at affordable cost.   We are also committed to work with our valued customers providing  standard services.
Tajrin Builders (Pvt.) Ltd. a real estate company. Since  that  time the company has progressively consolidated its expertise in developing projects and has gained a high reputation in successfully carrying out its assignments. Our on going project is at attractive location in the country .
Our objectives are to build modern architectural structure with the infusion of latest technologies.Tajrin Builders (Pvt.) Ltd. has a particular focus on tourist village which is  not available in  Bangladesh. We also ensure sophisticated facilities and comfort keeping in mind the needs of our valued clients in order to make their living comfortable with environment friendly atmosphere.
We have a team of skilled professionals- young and energetic officers for marketing, customer service, and sales promotion. Their combined efforts and constant focus on client-friendly service have made our harvest beloved assets to the buyers.
Today, in Bangladesh, there are many more opportunities in the private sector than   there were just a few years ago. We aspire to be a modern and dynamic company, one which can  provide   our clients with a comprehensive service of consistently high standard, adapted to satisfy our client's individual requirements. We attempt to be a responsible corporate citizen recognized for our business integrity and with expertise to design and construct projects, which will improve the quality of life and satisfy the needs of the society.
OUR VISION :
Our Vision is to play a major role to help resolve the housing problem thereby improving the quality of life of the people of Bangladesh and ultimately become the market leader in real estate business.
Leadership & Initiative:
We embrace and respond to our customer's changing needs. Team Tajrin Builders (Pvt.) Ltd is a well coordinated network of young professionals aligned to the goal of excellence and leadership. We set the standard for excellent performance and our efficient practices are emulated by others.
Best Business Practices:
Tajrin Builders (Pvt.) Ltd professionals pride themselves on their high degree of compliance to regulations. We maintain the highest possible standards in declarations and documentation, while upholding transparency in all our business activities.
Environmental & Social Responsibility:
Our design solutions have endured changing tastes and market conditions. This is because they are founded on our firm commitment to the physical & social environment and their protection. Furthermore, maintaining the wellbeing and morale of our staff is a priority so that you can be served even better.